Decent Little To-do List
Shareware
A convenient tree-style to-do list. Easy and pleasant to use.
Date added: 13 Feb 2012 | v1.2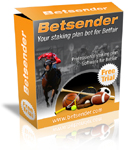 Betsender
Shareware
Betting bot for Betfair with built in staking plans. Fully automates your bets.
Date added: 20 Aug 2012 | v1.4.20729
Super Memory
Shareware
Virtual trainer for memory enhancement.
Date added: 24 Feb 2013 | v1.1.0
King Child Book Library
Shareware
An application to manage and browse your ebooks, save your time and protect your eyes.
Date added: 7 Mar 2013 | v2.4
Testkingworld Mega Pack
Shareware
Testkingworld.org offers Training of all leading certification vendors including Microsoft, Oracle, Cisco, CompTIA, Novell, LPI, Check Point, Lotus, CIW, Citrix, Sun, RedHat, IBM, ICDL, ISC2, EC Council, ADOBE, Alcatel Lucent, PMI, Network Appliance,
Date added: 7 Mar 2013 | vFull Version
FairBot
Shareware
FairBot is state of the art Windows software which provides an enhanced betting interface to the leading Betting Exchange, Betfair.
Date added: 20 Feb 2013 | v1
Matches
Shareware
This software illustrates and simulates one of the old encyclopedical examples of probability phenomena.
Date added: 20 Feb 2013 | v1.0
KeyboardLocker
Shareware
Disables the keyboard, leaving the mouse active.
Date added: 25 Feb 2013 | v1
CHM Editor
Shareware
Microsoft Compiled HTML Help is a proprietary format for online help files, developed by Microsoft.
Date added: 21 Feb 2013 | v1.3